The Swingtime dance band recently released their first professional recording, Swingtime Live. Conducted by Clair Christy and featuring vocalists Len Fallen and Connie Silliman, the CD and tape feature the following pieces:
Boogie Woogie Bugle Boy
String of Pearls
Body and Soul
New York, New York
Moonlight in Vermont
Lady is a Tramp
Little Darlin'
Almost Like Being in Love
Moon River
Don't Get Around Much Any More

Green Eyes
You're Nobody till Somebody Loves You
Sugar Blues
I Cried For You
Can You Read My Mind
All Right, OK, You Win
Don't it Make My Brown Eyes Blue
Love is a Many Splendored Thing
Teach Me Tonight
In the Mood

To obtain your own copy of Swingtime Live, attend one of the dances or concerts, or contact the Melbourne Municipal Band at the address below.
CDs are $15 + $3/s-h for CD and tapes are $10 + $3/s-h (US orders only, international please email melbourneband@aol.com for shipping & handling charges).
For more information, contact the Melbourne Municipal Band using any of these contact methods.
Download Audio Exerpts: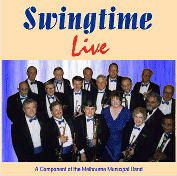 Boogie Woogie Bugle Boy 149k - David Ewing's excellent solo from the first track of the CD.
In the Mood 245k - Most people associate this piece with Glenn Miller. Sit back and enjoy the familiar beginning of this Garland/Sterling arrangement conducted by Clair Christy.
In the Mood 505k - With saxophones featuring Tom Silliman and Frank Tuckwiller carrying the theme, the four-voiced trumpet section shows off at the rousing end of the number that Swingtime plays at every dance. Joe Higdon has a short but sweet percussion solo at the end.
Swingtime Live features the following musicians:
Saxophone:
David Melchor
Tom Silliman
Frank Tuckwiller
Art Di Minno
Tony Szurka

Trombone:
Jim Rowland
Mike Spencer
Marie Tyson
Jon Moseley

Trumpet:
David Ewing
Jim Leininger
Bill Glover
Judy Good

Keyboard:
Phil Gaddie

Bass:
Bob Comarow

Percussion:
Joe Higdon

Vocalists:
Len Fallen
Connie Silliman

Conducted by:
Mr. Clair Christy
---